Green facades
Green facades, as a new expression of dealing responsibly with nature, are intensely demanded the restoration of ecological balance. It encourages healthy growth for all climbing plants like vines on any surface, whether parking garages, mall facades or urban greenways.
| | |
| --- | --- |
| Stainless steel green facade – cable border | Stainless steel green facade – tubular frame |
Benefits:
Quality product – Green facades Made from high-quality 316 stainless steel, our series of environment-friendly exteriors are durable, beautiful, yet light-weight. They are 100% recyclable, very immune to corrosion, and need little or no upkeep. Most of all, it shows a lot longer lifespan than similar products in the marketplace.
Extended lasting framework – Rigid framework features high tons capability and resistance versus big wind and snow. It accommodates a 3-D form to supply a distinct design of adaptability. On top of that, it has the best performance in a warm environment as the cord does not soak up induction heat.
Ecological benefits of Green facades – Intended to support the most strenuous vines, which produce oxygen to reduce pollution.
Thermal control & acoustically insulation – It controls the temperature of your building by shading wall surface areas, decreasing your structure, and reducing noise effectively.
Social & psychological advantages – Stainless-steel environment-friendly exteriors with online climbing up plants catch individuals' eyes and make them feel a lot comfier.
Wide applications – Our series of stainless steel green exteriors can be related to any structure or website, such as micro-garden, stadiums, and parking garages.
Green facades Easy to mount – The lightweight stainless steel cable television mesh needs a minimum of hardware for installation.
Easy to run – The simple greening system enables simple plant control and trimming. The eco-friendly exteriors can be partly removed for practical building upkeep to match seasonal modifications.
| | |
| --- | --- |
| Square cable mesh can also be used as green facades for your requirements. | Ideal for acting as a vertical wind-proof wall and decorating your building at the same time |
| Beautiful building green facades drive passers-by engaged with the building. | Stainless steel green facades ensure your family's safety and minimize fall accidents. |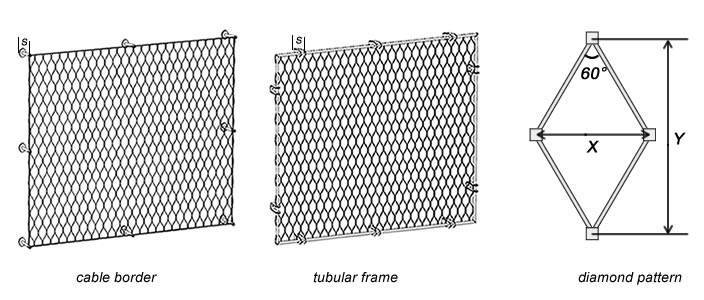 Specification:
Flexible Stainless Steel Cable Mesh(Inter-woven Type)
Item No.s
Cable Diameter
Mesh Opening Size
Normal Break

inch

mm

inch

mm

lbs.

BMP-3212W-Green facades

1/8

3.2

4.75 x 4.75

120 x 120

1,600

BMP-3210W

1/8

3.2

4 x 4

102 x 102

1,600

BMP-3290W

1/8

3.2

3.55 x 3.55

90 x 90

1,600

BMP-3276W

1/8

3.2

3 x 3

76 x 76

1,600

BMP-3250W

1/8

3.2

2 x 2

51 x 51

1,600

BMP-2410W

3/32

2.4

4 x 4

102 x 102

920

BMP-2490W

3/32

2.4

3.55 x 3.55

90 x 90

920

BMP-2476W

3/32

2.4

3 x 3

76 x 76

920

BMP-2460W

3/32

2.4

2.4 x 2.4

60 x 60

920

BMP-2450W

3/32

2.4

2 x 2

51 x 51

920

BMP-2076W

5/64

2.0

3 x 3

76 x 76

676

BMP-2060W

5/64

2.0

2.4 x 2.4

60 x 60

676

BMP-2050W-Green facades

5/64

2.0

2 x 2

51 x 51

676

BMP-2038W

5/64

2.0

1-1/2 x 1-1/2

38 x 38

676

BMP-1676W

1/16

1.6

3 x 3

76 x 76

480

BMP-1650W

1/16

1.6

2 x 2

51 x 51

480

BMP-1638W

1/16

1.6

1-1/2 x 1-1/2

38 x 38

480

BMP-1630W

1/16

1.6

1.2 x 1.2

30 x 30

480

BMP-1625W

1/16

1.6

1 x 1

25.4 x 25.4

480-Green facades

BMP-1238W

3/64

1.2

1-1/2 x 1-1/2

38 x 38

270

BMP-1230W

3/64

1.2

1.2 x 1.2

30 x 30

270

BMP-1225W

3/64

1.2

1 x 1

25.4 x 25.4

270

BMP-1220W

3/64

1.2

4/5 X 4/5

20 x 20

270
Specification of stainless steel green facades

| | | | | | |
| --- | --- | --- | --- | --- | --- |
| Code | X | Y | S | Suitable plant types | Border style |
| SSGF-1 | 100 mm | 173 mm | 80 mm | Slow growing vines and tendril climbers | Cable border or tubular frame |
| SSGF-2 | 160 mm | 208 mm | 80 mm | Slow growing vines and tendril climbers | Cable border or tubular frame |
| SSGF-3 | 240 mm | 415 mm | 120 mm | Slow growing vines and tendril climbers | Cable border or tubular frame |
| SSGF-4 | 300 mm | 519 mm | 160 mm | Slow growing vines and tendril climbers | Cable border or tubular frame |
Showing all 2 results